"Glitter" Chevron Wedding Party Favor, Bridesmaid Hangover recovery Bag.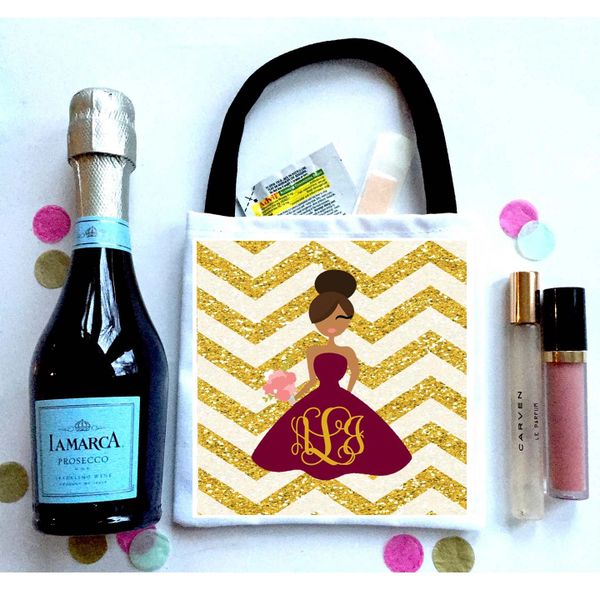 Glitter Chevron Party totes. Wedding party hangover bags.
OH SHIT RECOVERY KIT MINI 6" x 6" TOTE BAG ... Makes a Great and Fun Party Gift!

A mini tote bag is a unique gift you can give away at Weddings and Bachelorette Parties, Girls Weekend, Family Vacations and More. The tote bag is large enough to hold hair ties, candy, gift card, aspirin, lip gloss or many other small gifts. This product is printed bright and vibrant. Print is on one side of the 6" small tote bag.

Bag is not a bright white, but an off-white color. This bag comes empty. We do not supply the Oh Shit Recovery Kit items pictured, you can fill the bags with items you want!
Please Specify the copy or monograms you would like on the bag in the comment section. Monograms are in fLm order!

There is no actual glitter on the bags - just the image of it!
Hair color, skin color and dress color can be changed. Please specify in the comment section!
Each Bag is hand pressed so there may be slight variations!
There are matching huggers too!
Ships USPS priority with tracking.